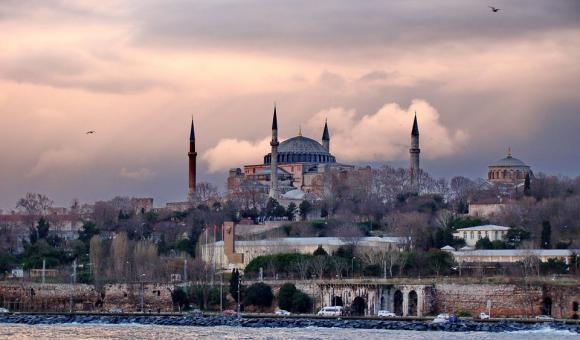 Brief Information about Turkey
Turkey, known officially as the Republic of Turkey, is a transcontinental Eurasian country.  Its location at the crossroads of Europe and Asia makes Turkey a country of significant strategic importance. The capital of Turkey is Ankara, and the official currency is the Turkish lira (TRY). The official language of Turkey is Turkish. Turkey is the youngest and second largest population in Europe with 29 years on average and 82 million respectively. Even though large majority of the population is Muslim, Turkey is a secular state with no official state religion. According to its Constitution of 1982, Turkey is a State governed by the rule of law and a democratic, secular and social republic.
Economic Outlook
Turkey grew on average by 7% between 2010 and 2017. The policy implementations and incentives in 2017 led to a 7.4% gross domestic product (GDP) growth rate, which is the highest rate within G-20 economies. However, since the beginning of 2018, an economic crisis has begun to emerge. Inflation went up to 25% and TRY has lost about 30% of its value against the US dollar until the end of the year. Thus, the annual GDP rate dropped to 2.6% in 2018 (766.51 billion US dollars' worth) from 7.4% in the prior year. Turkey had a total export of $167.921 billion and total imports of $223.047 billion leading to a negative trade balance of $-55.126 billion in 2018.
Leading sectors can be sorted as construction, infrastructure, automobile, rail and transports, medical and pharmaceutical and chemicals.
Economic Relationship between Europe and Turkey
The EU and Turkey are linked by a Customs Union Agreement since 31 December 1995. EU goods exports to Turkey hence fell by 8.9% to €77.3bn, while imports from Turkey rose by 9.1% to €76.1 bn. Overall trade in goods thus amounted to €153.4 billion in 2018. Turkey is the EU's 5th largest trading partner, both in exports and imports. The EU is by far Turkey's number one import and export partner, as well as source of foreign direct investment (FDI).  In 2017, inwards stocks were €19.5 billion; whereas outward stocks were €68.7 billion. Therefore, it is necessary to underline that despite mentioned economic fluctuations and difficulties, thanks to its geographic position and its market potential, Turkey remains as an important trade partner and as an attraction point for foreign investments.
Turkey was ranked 15th in Belgian exports and 17th in Walloon exports.